Critical Mass
Level Information
Creator
6359
Difficulty
Medium Demon
Stars
10
Level ID
4855709
Soundtrack
Song
Haunted
Composer
Shirk
Critical Mass is a demon level made by 6359 in 1.9. It is her first created demon, and is usually considered an easy demon. It is also 6359's only featured and rated demon as of now, and after the 2.0 update has added unverified (bronze) user coins. The level style somewhat resembles that of Theory of Everything 2 at certain parts.
User Coins
The first user coin is located at 15%, below the invisible gear. The narrow maneuver makes this coin mildly challenging to get, but not too hard.
The second user coin is at 44%; once the cube goes past the gravity portal, do not tap the yellow jump orb to acquire the second coin. Time the jump into the gravity portal carefully beforehand – otherwise, the cube might hit the sawblade behind the coin instead, killing the player.
The third and final user coin is at 60% and is the hardest one to get; the player must maneuver the wave into a fake spike to reach the small space with the coin, then quickly pull back up to meet the second fake spike.
Trivia
According to 6359's level description, Critical Mass was made by a request from Nasgubb, who is the creator of Takeoff.
There is a secret at 20%, where you can pass below the ball portal. There is a short message that reads "SKILLZ!" and many triple spikes.
There is also a bug at 76%, where you can pass below the cube portal and skip that portion entirely (until 82%).
The song used for the level, Haunted, is also the outro of a well-known YouTuber, Markiplier.
Walkthrough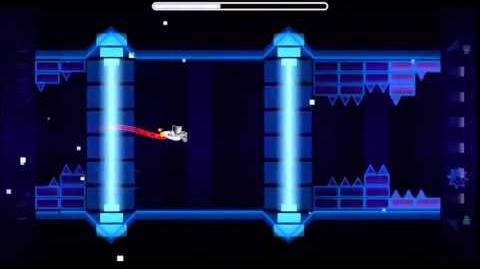 Ad blocker interference detected!
Wikia is a free-to-use site that makes money from advertising. We have a modified experience for viewers using ad blockers

Wikia is not accessible if you've made further modifications. Remove the custom ad blocker rule(s) and the page will load as expected.