| | |
| --- | --- |
| | This page is a stub. You can help Geometry Dash Fan wiki by editing it. You might want to extend it to show your wiki love! |
Devil Vortex
Level Information
Creator
Rustam (Verified by ToshDeluxe)
Difficulty
Extreme Demon
Stars
10
Level ID
32969607
Soundtrack
Song
Composer
NemesisTheory

Devil Vortex is a 2.1 Hell-themed Extreme Demon created by Rustam and verified by ToshDeluxe. It currently sits at #10 on the Official Geometry Dash Demonlist, below Artificial Ascent (#9) and above Bausha Vortex (#11).
Gameplay
WIP
This level begins with a very hard slow mini ship segment where the player must straight fly to avoid being killed by the red blocks. Then, the player transitions to another hard mini wave section where the player must fly between the tight spaces.
Records
Player
Highest Percentage
Date Completed
Total Attempts
Notable Fails
Video
ToshDeluxe (verifier)
100%
21 April 2017
5,776
43%

03:31

"DEVIL VORTEX" 100%!! COMPLETE (EXTREME DEMON!!) - by Rustam (Verified by ToshDeluxe) -On Stream-

Sunix
100%
30 June 2017
6,597
80%

02:37

Devil Vortex 100% by Rustam (Extreme Demon) - GD 2.1

EndLevel
100%
N/A
N/A
N/A
N/A
Xmerritt
100%
5 August 2017
3,866
84%

04:40

Geometry Dash - Devil Vortex - -DEMON- - Published by- Rustam
Trivia
The level was a medium demon, but ToshDeluxe buffed it to make it extreme demon.
Many players have complained about buggy (especially on 60hz) and annoying gameplay on this level. For this reason, the level has received a lot of hate and at its release, there was a lot of controversy surrounding the level (most of which has passed).
ToshDeluxe, the verifier of this level, has gotten many hacking/cutting/auto accusations from people such as MeatiusGaming and Weoweoteo. Weoweoteo made a video about Tosh's defense video saying how he did not hack or cut the level. Weoweoteo said that the level was impossible on 60hz. ToshDeluxe said 83% on the level is nearly impossible and requires "pixel perfect" timing (Unless you have a 144hz monitor.). ToshDeluxe then made a video a day later after Weoweoteo did, talking about Weoweoteo's video that was "proof" Devil Vortex was not verified legitimately. Weoweoteo's video was removed a few days later.
Many players considered this level impossible due to the first ship part and the mini wave spam near the middle of the level.
Walkthrough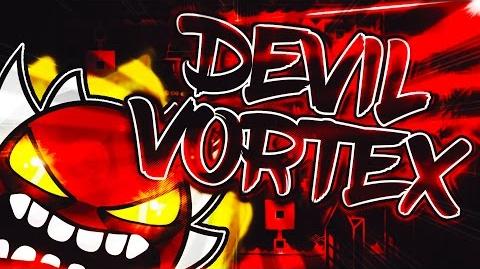 Ad blocker interference detected!
Wikia is a free-to-use site that makes money from advertising. We have a modified experience for viewers using ad blockers

Wikia is not accessible if you've made further modifications. Remove the custom ad blocker rule(s) and the page will load as expected.