Fear Me
Level Information
Creator
Crispy Dash
Difficulty
Medium Demon
Stars
10
Level ID
7705437
Soundtrack
Song
Fear Me (NGADm Entry)
Composer
Rukkus

Fear Me is a Nine Circles remake made by CrisPy Dash. It features a sky-blue theme and people normally consider it an easy demon-one of the easiest Nine Circles levels there is. Despite this, the level requests more effort to reach the wave part than other easy Nine Circles Levels. This level was a springboard to CrisPy Dash to rise in popularity, continuing to make other levels that got starred, too.
Gameplay
The levels starts with a fairly simple cube with fakes, tricks and jump rings. Then the cube involves to a harder ship with the classical slopes, an abundance of sawblades, tight spaces and gravity switches. Then appears a Fairydust-like confusing cube with fake blocks, tricky rings and spikes. Subsequently starts an apparent auto-cube with invisible spikes and fake lines that can be avoided jumping before a blue pad, falling below and being careful to hit a blue ring to return upside. A short but tricky ball anticipates the drop, that starts with the typical triple speed wave. The begnning is easy or moderately difficult with spikes, fake lines, few sawblades and size/gravity portals, then starts an easier dual wave, before normal, then normal upside and mini below, then mini and finally normal with fake lines. Then the wave returns single and, after an easy simple part, continues with a path similar to the first single wave, but longer. The wave returns dual in proximity of the end, before to involve to the final cube, evidently inspired by Problematic, with U-like blocks, and the final mark of CrisPy Dash.
Errors
You can crash on a sawblade at the last dual if you don't touch the ground right before. (This is now fixed)
Trivia
This is one of the most updated Nine Circles Levels with 10-15 updates. Most of them were bug fix.
This is an 1.9 level but features some 2.0 elements, like the background and the moving water.
After the 2.0 Update, when you finish the level, the word: "now I fear you.." can be seen, and dying at the last spike changes this to "go back :D".
Rulas and Phoenix collaborated in an ultra remake, called Ultra Fear Me, that don't feature the typical beginning of a nine circles level. Unfortunately this level is unstarred, probably due to Giron complaining about Ultra maps being rated.
This is one of Crispy Dash's Nine Circles that he made, another one is If Sonic Wave is L1 which is said to be the hardest If ...... was Level 1 remake ever, and was rated Insane 8 stars. He also created a remake of Retro Circles, called Screamroom Circles, that was deleted due to the fear of not receiving any stars.
Bluefox has created a remake called Fear Me Rebirth, which is based of Sonic Wave Rebirth.
Walkthrough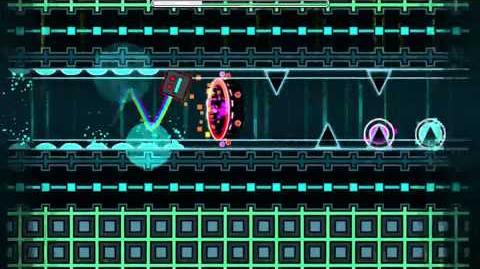 Ad blocker interference detected!
Wikia is a free-to-use site that makes money from advertising. We have a modified experience for viewers using ad blockers

Wikia is not accessible if you've made further modifications. Remove the custom ad blocker rule(s) and the page will load as expected.