| | |
| --- | --- |
| | This page is a stub. You can help Geometry Dash Fan wiki by editing it. You might want to extend it to show your wiki love! |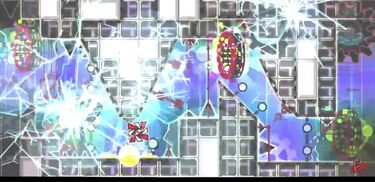 The
Toxin Lab
series is a popular personal level series created by
Xaro
. They tend to use Xtrullor music.
The original level which is rated Insane.
Possibly the most famous of the series, due to the fact it is classified as an easy demon. This level and the 1st Toxin Lab was made in 1.9.
The third instalment to the series, Toxin Lab III introduces many extremely distracting effects, one of the most notable being the broken screen. It is characterised by its constant blind form changes.
A somewhat unofficial member of the Toxin Lab family, Deadly Impact can be seen as a v2 of Toxin Lab II, and is a collab between Xaro himself and FunnyGame.
Toxin Lab IV
The fourth level of the series, was made between 2.0 and 2.1 so the level mostly consists of 2.0 part and has 2.1 parts on the last part of the level.
Ad blocker interference detected!
Wikia is a free-to-use site that makes money from advertising. We have a modified experience for viewers using ad blockers

Wikia is not accessible if you've made further modifications. Remove the custom ad blocker rule(s) and the page will load as expected.